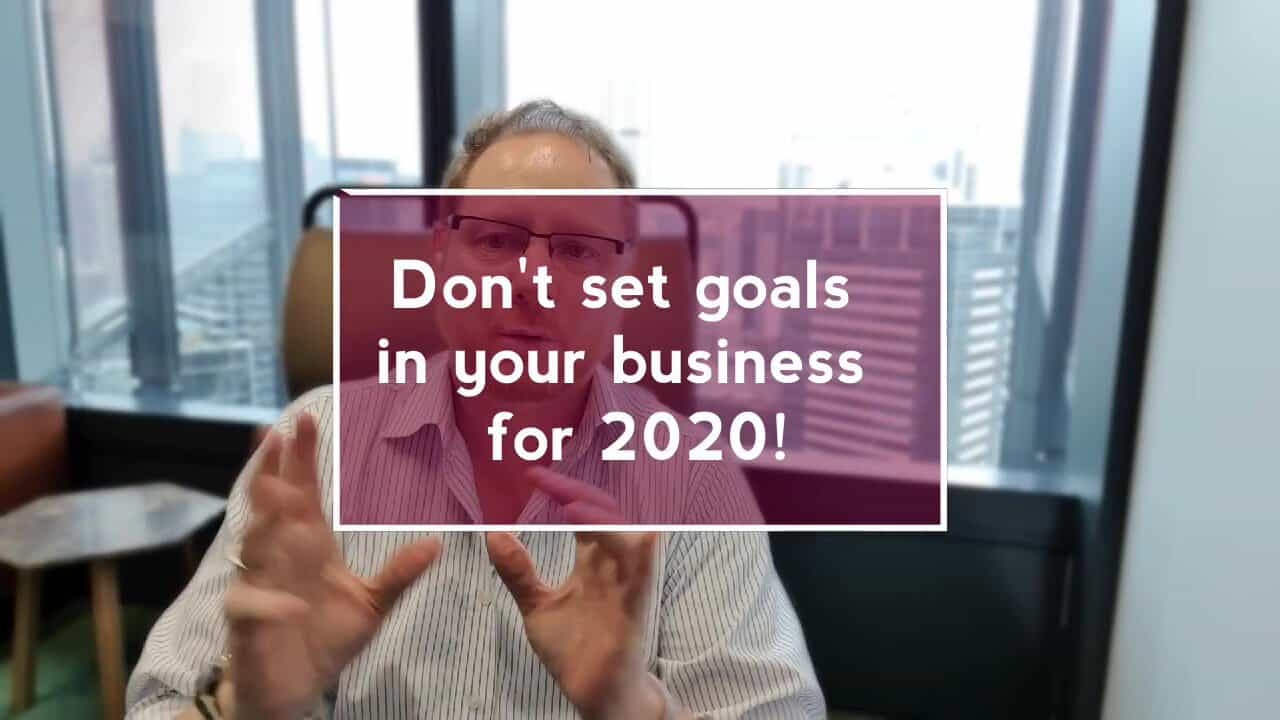 Setting Business Goals has proven to increase success by 33-47%.
I've personally added 32%-86% more value to businesses just by implement our management framework that sets and tracks the right business goals. (Although there is a key difference which I will tell you about).
So why do I say you shouldn't set goals in your business?
Business Goals are critical to success:
Success takes drive.
Setting goals is a very effective way for people to focus on that drive.
The key here is that we are individual people that need to ignite the drive in each and every one of us.
If you want to achieve your business goals you must be able to mobilise everyone involved in your business to focus on the thing you want to achieve.
This includes employees, customers, suppliers and business partners.
The problem here is that each if these people may not align with your business goals, they may have their own person direction and desire that aren't perfrctly in line with what you want to achieve in your business.
So how do you get all these parties aligned to Your Business Goals and hold all them accountable?
Every successful business owner I have met has business goals, and the those that publicise their goals do even better. That goes some way towards informing others about what your trying to achieve and bring them on the journey.
But it's just not enough….
9.5 times out of 10, this type of publication of your business goals is a one way street, it is simply a presentation of what you want to happen.
Others will hear but they will not be 100% on-board with your business goals.
This is a fundamental mistake most businesses make.
Size doesn't matter here, I've seen this in global multi-nationals and in small family owned and operated businesses.
Ending in the same result…. Lack lustre staff commitment to your business goals.
The key is to get the people involved in your business to set the business goals themselves…
If this sounds scary to you, it is!
It was scary for me in my business, it has been scary for every client I have worked with over the last 20+ years.
What makes it less scary is having a great business management framework, a tested and proven approach that helps you set goals and empowers staff to achieve them.
I've been using and teaching clients to use this approach for many years now with fantastic results.
32%-89% improvement in fact. Using this model I have never seen a business achieve less than 32% bottom line improvement in any KPI they set their minds to. That's right 32% bottom line improvement, minimum, using existing staff and no new technology solutions – purely with good old fashion focus!
Our Financial Peak Performance™ framework teaches you an approach to setting goals that involves staff, a way to measure and celebrate success, and really really effective communication of your business goals across the business.
More than that as staff are involved the business goals become aligned with each person's individual goals…. this is extremely powerful, and makes your goal setting highly effective.
I've even used this same framework to improve Customer Experience and change Customer Behaviours.
The best thing is that once the framework is in place, staff take over making your business feel like it runs on autopilot!
You can do this in your business too.
It took me 10 years to create and perfect the Financial Peak Performance™ framework. I was lucky enough to have the opportunity to test and refine the framework over hundreds of businesses, across dozens of industries.You don't need my framework to do this in your business, you can do it on your own.
it may not even take you the 10 years to perfect …..
However if you are time poor, or just want to unlock that potential value in your business right now, leveraging our Financial Peak Performance™ framework might be just the ticket.
If you want get started I offer a free strategy session to make sure we are on the same page and I can really help your business (I can't help everyone).
If you want to learn more about our Financial Peak Performance™ framework check out our Financial Peak Performance™ MBA.
Oh I almost forgot we also have a free business health check (like everyone else) that tells you exactly what components you are doing well and where you can improve (not like anyone else). Do your Online Business Health Check here. (It's a self assessment so be honest…)
About the Author:
Brad Horan is an accomplished Chartered Accountant, that loves business and particularly the human psychology of business decision making to achieve success.
Brad has over 20 years experience in consulting to businesses across finance and operations. Early in his career he recognised that there was a disconnect between operational and financial goals within businesses. This disconnect often resulted in businesses taking different conflicting actions despite trying to achieve the same result.
He recognised these conflicting actions were at great expense to businesses and their employees. In extreme cases they led to the demise of businesses.
Brad worked with hundreds of businesses over the years big and small, eventually coming up with a framework to drive ownership through all levels of the business. This improves employee relationships, customer experiences, and ultimately reduces work and stress for those managing the business.
Businesses big and small have benefited from Brad's unique services; Midas, Diamond Pasta, Universal Pictures, HSBC, MetLife, Otis, Transport NSW, Hannover Re, Exxon Mobil, Care Fushion, Cleaning Star, Lonergan Research, to name a few.
Want more knowledge?
We've curated these pieces of content just for you…